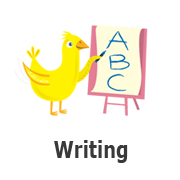 Writing Activities
Give your toddler writing utensils (crayons, markers, pencils, etc.) and pretend to write grocery lists, shopping lists, traffic tickets, thank you notes or even love notes.
Provide opportunities for your toddler to create while learning new skills. Have your child explore with finger paint, shaving cream, sand or playdough to help develop fine-motor skills necessary for writing.
Have your toddler use tongs or tweezers to pick up cotton balls or pom poms. It's a great fine motor exercise used to get your child's hand muscles ready for writing.