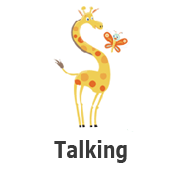 Talking Activities
Have your child help prepare a meal. Make observations and discuss what and how you're preparing, how items taste and what items look like. "The fruit is so colorful and all different shapes, what shape is this strawberry?" Use words that increase vocabulary and comprehension such as this juicy, boil, bake or slice.
Talk about objects outdoors such as the rustling of leaves or the sounds of the birds or traffic. Ask your child if she can recreate the sounds for wind, rain, water, airplanes, trains and cars. This is a great way for children to observe the world while listening for new sounds.
While shopping for groceries, discuss what you will buy, how many you need, and what you will make with particular items. Make observations about the items you will buy, such as the size (large or small), shape (long, round, square), and weight (heavy or light) of the packages.