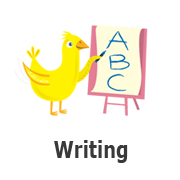 Writing Activities
Making a shopping list is a fantastic literacy activity for young children. Give your child their own notepad (or stack of paper) and a writing utensil (crayon, marker, pencil) and have them make a shopping list. Your child can try and write the words or draw pictures for specific items.
Building with blocks or Legos is a great way to practice fine motor skills. Fine motor skills are used for writing, holding the pencil correctly and hand eye coordination. Let your child explore many different types of building materials to encourage those skills.
Draw, scribble or write letters using sidewalk chalk. This is a fun activity that allows your child to work on letter recognition and fine motor skills. It washes off easily and is a fun outdoor activity.