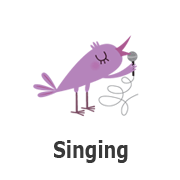 Singing Activities
Download music from the hoopla app to your device and have a dance party. Dance builds strength, agility, and flexibility, boosts confidence and problem-solving skills. It can also help children learn how to move their bodies to different types of music, which allows for music appreciation.
Create music class at home! Make a playlist of some of your kids' favorite songs. Use the instruments you have at home or create your own (Use bowls, spoons, pots and pans, ribbons or plastic containers filled with dry beans and rice). Create a band, have each person play a different instrument or sing a specific part of a song. Sing, dance or listen and tap out the rhythm, beat and tempo of the music.
The West Bloomfield Township Public Nursery Rhymes, Songs and Fingerplays resource includes favorite rhymes and tips for using them to develop language skills. Nursery Rhymes encourage many early learning skills such as counting, rhyming and vocabulary. Visit the Library and ask for a copy of our Nursery Rhymes, Songs and Fingerplays resource.