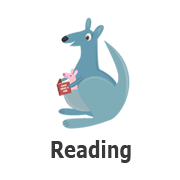 Reading Activities
Listen to audiobooks with your child. Audiobooks can be streamed in the car, during rest time or during a long trip. This is a great way for your child to be exposed to a variety of early literacy skills and vocabulary on a daily basis. Check out hoopla, BookFLIX or Tumblebooks for great titles for your little one.
Have fun with letters. Young children enjoy copying letters and words onto paper. Write your child's name and have him copy it himself. Your child can try writing by themselves or use letter stamps, stickers, or magnets. This is a great activity for letter recognition and to build fine motor skills.
Visit the Library or Library website to look at all the amazing books in our catalog. Have your child help you choose books to read and put on hold. Search for favorite books, topics or look for something new. This is a great opportunity for your child to get excited about reading or pick out a new book.