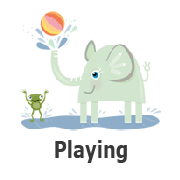 Playing Activities
Play a new game. Choose a board game such as Chutes and Ladders, Candy Land, Uno, or Skip-Bo. Board games teach young children concepts such taking turns, winning and losing, sharing, and being a good sport. Children will learn how to strategize as well. Hint: Allow your child to experience both winning and losing as part of the game playing process. It's all part of life. It helps with self-confidence, self-image, and learning to problem solve.
Have a picnic in your living room. Lay out a big sheet on the ground and serve snack or lunch picnic style. This is a great opportunity to have your child help set up the picnic, count the number of items you are serving and create a picnic atmosphere.
On rainy days, when it's hard to get outdoors to play. Create an indoor obstacle course with household items. For example: do 4 jumping jacks, try the hula hoop 5 times, jog in place for 15 seconds, or jump over this box 6 times.