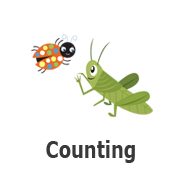 Counting Activities
Sorting items develops early math skills and you can do this activity with anything. Use household items to count and sort them by color or size. Blocks, toy cars, colorful cereal, or socks are great sorting tools. Try to make sorting part of your clean-up routine.
Play store. Create play money (draw on scrap paper) and a play cash register (use a box or old plastic container), this gives your kids a hands-on learning experience that promotes counting, number recognition and math. Pretending to be like an adult using pretend money is such a fun activity, but also gives young children the opportunity to practice real-life math skills and experiences (such as manners such as please and thank you).
Baking introduces children to measurement. Bake or cook with your child and take the time to explain what you're measuring. For example, make banana bread and talk to your child about measurements, size and quantities such as adding 3 bananas or measuring 2 cups of flour.