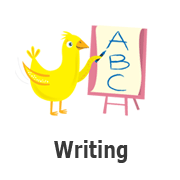 Music and Media Writing Apps
Here's a list of great writing apps that help children along every step of the writing process. Writing is a complex process but we've found apps that help young children along all of the steps of the writing process, including ways to strengthen fine motor development. Several apps can turn your tablet into a handwriting practice.
Etch a Sketch IT! -Children can create original artwork using this virtual Etch a Sketch. Draw freehand with your fingers or use virtual knobs to create a picture and then shake your device to erase the image! This app builds hand eye coordination as well as fine motor skills.
Artie's World is a guided drawing experience that promotes fine motor skills while children practice drawing their favorite animals and objects.