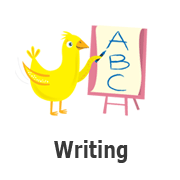 Music and Media Writing Apps
Here's a list of great writing apps that help children along every step of the writing process. Writing is a complex process but we've found apps that help young children along all of the steps of the writing process, including ways to strengthen fine motor development. Several apps can turn your tablet into a handwriting practice.
Drawing for Kids Learning Games- Develop your child's creativity and imagination. Painting For Kids will turn into a fun and intriguing process which will bring a lot of joy. Watch as your child draws a delightful character step by step. Once the drawing is complete watch as the character comes to life: the butterfly will flutter or the hedgehog will roll into a ball.
Faces iMake- Right Brain Creativity- Faces iMake is a tool for creating collages using pictures of every-day objects but Faces iMake is much more than that: It enables kids' EXPRESSION IN A NON VERBAL WAY. An enthusiastic student will have more incentive to articulate on his/her creation.
Puzzingo- Kids, toddlers, and babies love Puzzingo! Its many puzzles are full of interactivity, animations, and sounds for repeat learning and play. Every Puzzingo puzzle piece is named, so preschool children, toddlers, and babies will build vocabulary while playing. Puzzingo supports learning in many languages, including English, Spanish, Chinese, Japanese, and UK English. It is well suited for bilingual parents looking for tools to help kids reinforce a second language.