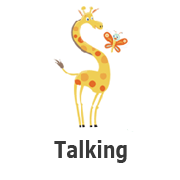 Music and Media Talking Apps
Jump start your child's language and literacy development with this collection of cool tools to get kids chatting. These apps will promote speech, talking, and vocabulary will help with language expansion, questioning skills (WH questions (What, where, when, why), following directions, environmental sounds (animal, car, object sounds), spatial concepts (in, on, under, next to, over), conversational and turn-taking.
Animatch-This simple electronic matching game features animal cards to flip and match just like an old-school memory game! When kids succeed at a match, they'll hear cool animal sounds. This app is perfect for developing concentration, memorization, and cognitive skills.
Bugs and Buttons-This app provides whimsical games and activities designed to reinforce countless educational skills while providing an entertaining experience for kids. The activities include counting, sorting, patterns, playing tic-tac-toe, connecting dots, navigating a maze, steering, matching, and completing letter sequences.