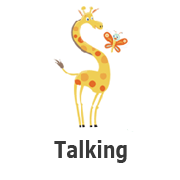 Music and Media Talking Apps
Jump start your child's language and literacy development with this collection of cool tools to get kids chatting. These apps will promote speech, talking, and vocabulary will help with language expansion, questioning skills (WH questions (What, where, when, why), following directions, environmental sounds (animal, car, object sounds), spatial concepts (in, on, under, next to, over), conversational and turn-taking.
Peek-A-Zoo- An award-winning interactive experience that asks children to identify different animals who dance, eat, wag their tails, wear sunglasses, sleep and more. Children will learn about animals, emotions, actions and sounds.
Balloon Pop Kids- Turn learning numbers and counting into fun! Toddlers can learn the basics of ABCs Alphabet (letters) & the Numbers (1-20) , Zoo Animals & Piano Musical sounds using this app (games) with different colors & shapes.
Duolingo- Duolingo is changing the way people learn languages using advanced technology to personalize every lesson for you. Practice reading, writing, speaking, listening and conversation with intelligent Chatbots. Track your progress, earn rewards, and join the world's largest community of language learners.