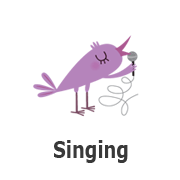 Music and Media Singing Apps
There are many attractive, cool and simple music game for toddlers and preschool kids, which inspires and encourages kids to create own music. The potential of these tools to get children up out of their chairs and engaging in learning of all kinds including music and movement, pretend play, speaking, voice tone, listening and comprehension, and rhyming.
Loopimal- The best way for young kids to learn about making music! The possibilities of creations and compositions are endless. With an intuitive fun gesture they can create sequences for different animals. The content is on melodic, rhythmic or movement bases. There is no goal, no wrong or right, it's a safe kit for creation.
Toca Band- With Toca Band you can play together with your kids and experiment with sounds, beats and rhythms in lots of fun ways. Guitar or opera, upbeat or downtempo, let's find out what sounds best together! Toca Band is a fun and easy toy that encourages children to explore music in a new creative way!
Little Fox Nursery Rhymes- A sing-along songbook with more than 100 interactive elements in 3 songs and the little fox music studio where you can record your own songs!