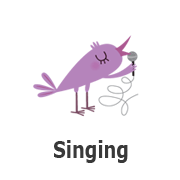 Music and Media Singing Apps
There are many attractive, cool and simple music game for toddlers and preschool kids, which inspires and encourages kids to create own music. The potential of these tools to get children up out of their chairs and engaging in learning of all kinds including music and movement, pretend play, speaking, voice tone, listening and comprehension, and rhyming.
Daniel Tiger's Grr-ific Feelings-This app encourages children to explore their feelings while being encouraged to practice calming techniques, the use of deep breathing or counting if feeling frustrated. Children will also explore feelings such as the concept of being proud and learn how to do a happy dance when feeling happy.
Mother Goose Club Rhymes- This app features a large number of classic nursery rhymes, songs, activity ideas as well as read-along storybooks, puzzles, and simple learning games.