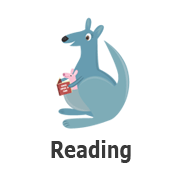 Music and Media Reading Apps
Toddlers and Preschoolers will love interactive book apps as well as letter recognition, literacy, and language skills apps which provide a great foundation for reading. As you and your toddler go through the "pages" of this electronic pop-up book, you will enjoy hearing animal sounds, and discover fun surprises as you touch the various objects in the illustrations. Individual words are also pronounced with the touch of the finger. Electronic book apps can provide a good foundation for book knowledge such as reading from left to right or where to read on a page. Other literacy apps provide letter sounds, letter recognition, rhyming, alphabetic knowledge, listening and comprehension skills, book enjoyment and knowledge and writing skills.
Goldilocks and the Little Bear- It's the classic story of Goldilocks and the Three Bears - as you've never seen it before. While Goldilocks is in the bears' home, eating their porridge, sitting in their chairs, and sleeping in their beds, Little Bear is in Goldilocks's family's home – eating their pancakes, wearing their clothes, and reading their books! Enjoy each story in parallel, individually, or however you'd like – you can toggle between the two at any point.
My Very Hungry Caterpillar- My Very Hungry Caterpillar will captivate you as he crawls across the screen! Have fun playing together, help him explore, pick him up, or take a peek into his colorful toy box. Hatch him from an egg, drag tasty fruits from a nearby tree, then watch as he eats them! And when My Very Hungry Caterpillar gets sleepy, just tuck him into his bed. Each time you wake him up, it's time for an exciting new adventure: push him on a swing, sail on a pond with bobbing Rubber Ducks, and grow flowers and fruit in a magical 3D garden. The more you play, the more surprises you'll find including new activities, new fruit, and new toys unlocked over time.
Learn to Read with Tommy Turtle- Learn to Read with Tommy Turtle is a delightful game that invites preschool-aged children to blend sounds into words, read and form simple words, identify spoken words and learn word families.