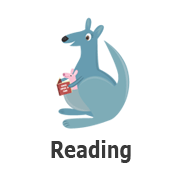 Music and Media Reading Apps
Toddlers and Preschoolers will love interactive book apps as well as letter recognition, literacy, and language skills apps which provide a great foundation for reading. As you and your toddler go through the "pages" of this electronic pop-up book, you will enjoy hearing animal sounds, and discover fun surprises as you touch the various objects in the illustrations. Individual words are also pronounced with the touch of the finger. Electronic book apps can provide a good foundation for book knowledge such as reading from left to right or where to read on a page. Other literacy apps provide letter sounds, letter recognition, rhyming, alphabetic knowledge, listening and comprehension skills, book enjoyment and knowledge and writing skills.
HOMER Learn & Grow is a reading program that gives parents the ability to personalize learning level and preferences for their young child. Kids can develop literacy skills through stories, phonics lessons, songs, their own voice recordings, drawing, and more. HOMER Learn & Grow also provides activities that touch on other early learning goals such as math and STEAM concepts as well as creativity and imagination.
AlphaTots Alphabet- The app features puzzles, games and activities geared towards helping your child learn the alphabet. Children will learn to sing and recite the alphabet song as well as learn letters and sounds by "building" robots, "digging" for treasure, and "zapping" alien spaceships.