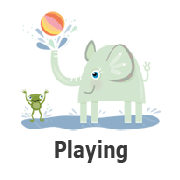 Music and Media Playing Apps
Children learn best when they are interactive and engaged. Have a program that is collaborating with your child to encourage them to play, think and learn while having fun. Your child will have fun playing these apps while building, hand eye coordination, fine motor skills, verbal/language skills such as speaking, making sounds, and singing, observing, experimenting and using tools and technology.
Daniel Tiger's Day and Night- This easy-to-use app introduces kids to routines such as getting ready for school and getting ready for bed at night. Your child will help Daniel complete tasks such as getting dressed, eating breakfast, brushing teeth, and taking a bath. This app is a good introduction to organizational and listening skills and paying attention to their daily routines.
Play and Learn Science-This PBS Kids-created app allows children to explore basic earth science, physical science, and life science topics. The interactive activities feature science-related phenomena such as physics, nature, weather and biology. To help transfer learning offscreen, parents can use the in-app tips for more at home science activities.