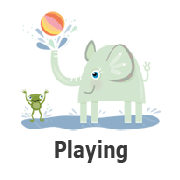 Music and Media Playing Apps
Children learn best when they are interactive and engaged. Have a program that is collaborating with your child to encourage them to play, think and learn while having fun. Your child will have fun playing these apps while building, hand eye coordination, fine motor skills, verbal/language skills such as speaking, making sounds, and singing, observing, experimenting and using tools and technology.
Sago Mini Friends- Play time with friends is such an important part of children's lives. Sago Mini Friends invites kids to lead the play and will bring smiles to you and your children. Go on a playdate with your favorite Sago Mini friends! Take a walk to a friend's house and let the fun begin. Help Robin the bird fix a birdhouse, play dress-up with Jinja the cat or enjoy a snack with Harvey the dog. With five friends and more than ten activities, there's a lot to explore.
Toca Blocks- Toca Blocks is a unique world-building app that lets you create worlds, play in them and share them with friends. Where will your imagination take you? Explore the blocks' attributes by merging blocks together to transform them into something else. Learn their characteristics — some are bouncy, some are sticky, some turn into beds, diamonds, turds or other surprises! Combine blocks to change their color and pattern and give your design that magical feel. The more you learn about the blocks, the more inspiration for your creations you will find!
Little Builders for Kids- Little Builders is the first 3D app for children aged 2-6 years that want to explore the world of being a real little builder. Depending on the child's age, all animations and functions can run automatically or be controlled through a tap. On our construction site your child can drive a digger, mix cement, roof a building, operate a crane, drive a street sweeper or paint a house. At the same time they can watch funny things happen, because on every building site there's always something going wrong. Water suddenly bursts from a pipe, a builder falls into a hole or the wind blows the bricks away because the cement wasn't dry yet.