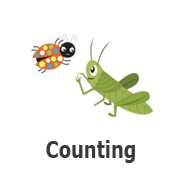 Music and Media Counting Apps
Kids can practice math at all levels with terrific digital tools. Young kids can develop early skills such as number sense, counting, basic addition, and shapes, while older kids can work on algebra and geometry concepts. Find an app that provides fine motor skills, hand eye coordination, tracing, rote counting, guessing and open ended questioning.
Little Digits- Little Digits is a fun educational app that teaches children about numbers via an intuitive spin on the traditional use of finger counting. This is an app that will grow with your child's numerical understanding. Not only can they discover numbers through initial independent play, you can also play collaboratively with your child; each putting fingers down to count and work out calculations together. Then when your child is ready, they can work out the answers for themselves, using their own little digits!
Dragon Box Numbers- DragonBox Numbers will teach your child what numbers are, how they work, and what you can do with them. The game makes it easy and fun for your child to gain an intuitive understanding of numbers. It's a great introduction to the wonderful world of math.
DragonBox Numbers brings math to life by turning numbers into colorful and relatable characters, called Nooms. The Nooms can be stacked, sliced, combined, sorted, compared and played with, any way your child pleases.
Number Train Early Learning- An engaging app for young children encountering the number system for the first time. This app allows children to learn their basic numbers from 1 to 20, through progressively more difficult tasks and games. The "grown-ups" area allows adults to view their child's statistics and how well they have learned their numbers.