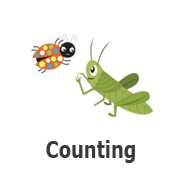 Music and Media Counting Apps
Kids can practice math at all levels with terrific digital tools. Young kids can develop early skills such as number sense, counting, basic addition, and shapes, while older kids can work on algebra and geometry concepts. Find an app that provides fine motor skills, hand eye coordination, tracing, rote counting, guessing and open ended questioning.
Peg and Cat Big Gig- Your child will learn simple math skills as well as have fun singing and dancing with Peg and Cat. Your child will learn through singing while Peg and Cat will help your child identify numbers, counting and patterns.
Monkey Preschool Lunchbox-This app will introduce your child to a variety of concepts such as letters, colors, shapes, counting, and pattern recognition. The app will provide interactive activities such as solving puzzles, counting fruit and matching while trying to create a healthy meal in the monkey's lunch box.