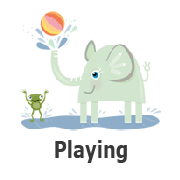 Playing Activities
Tummy time develops baby's neck and upper-body muscles for improved head control. Tummy time can begin at birth, by placing baby on his/her tummy for a few minutes at a time, up to three times a day or as often as he/she seems to enjoy it. You can increase tummy time as your baby gets older and stronger, and place toys in front of him/her to encourage hand eye coordination, grabbing and eventually crawling.
Get Silly! There is nothing better than a baby's laugh. It helps your baby develop a sense of humor, communication skills, and bonding with an adult or another child. Use mirrors, silly faces, or funny noises to make your baby giggle,.
Use bubbles for a fun, interactive game between baby and adult. Pop, count, chase and sing songs to the bubbles, it will provide endless amounts of fun.